We've previously called NASL the Home of the Golazo, and last night's wondergoal by Indy Eleven's Kyle Hyland adds to the legend of the most exciting soccer league in the United States, as his 98th-minute rocket proved to save a draw for his side at home against the Tampa Bay Rowdies.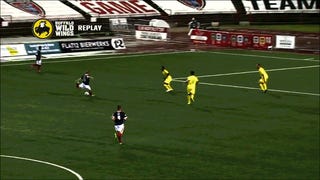 That's in a match that had only seven minutes of stoppage time in the second half; only some confusion over an extra ball on the pitch seems to have even given Indy Eleven that extra time in the possession. That it came at the end of a match delayed by lightning made it all that much more wild.
[NASL]
To contact the author of this post, write to tim@deadspin.com (PGP key) or find him on Twitter @bubbaprog.